===
Dubai, the dazzling city of the United Arab Emirates, is not only famous for its towering skyscrapers and lavish lifestyle but also for its vibrant culinary scene. From the humble street food stalls to the extravagant fine dining restaurants, Dubai offers a wide array of dining experiences that cater to every palate. Whether you are a foodie looking for a quick grab or seeking an unforgettable gastronomic adventure, Dubai has it all. Let's delve into the diverse and mouth-watering world of Dubai's dining experiences.
Exploring the Vibrant Street Food Scene in Dubai
The streets of Dubai come alive with an explosion of flavors and aromas, offering a wide variety of street food delights. From the traditional Emirati dishes to international cuisines, Dubai's street food scene is a melting pot of cultures. Walking through the bustling streets, you'll find food carts and small stalls serving shawarmas, falafels, and kebabs. Don't miss the opportunity to try the Emirati favorite, "Luqaimat," which are sweet dumplings drizzled with date syrup. For those seeking a taste of India, head to the bustling Meena Bazaar and indulge in delicious Indian street food like chaat and samosas.
Indulging in Exquisite Flavors: Fine Dining in Dubai
Dubai takes pride in its vibrant fine dining scene, with an abundance of world-class restaurants offering exquisite flavors and impeccable service. From Michelin-starred establishments to celebrity chef-led restaurants, Dubai is a haven for food connoisseurs. The city is home to renowned chefs like Gordon Ramsay and Nobu Matsuhisa, who have opened their signature restaurants in Dubai. Indulge in a culinary journey through a multi-course tasting menu, paired with carefully selected wines, and experience the art of gastronomy at its finest.
Unforgettable Culinary Journeys: Dubai's Unique Dining Experiences
Dubai is not just about street food and fine dining; it also offers unique and out-of-the-ordinary dining experiences that will leave you with unforgettable memories. One such experience is dining in the world's tallest building, the Burj Khalifa. Enjoy a luxurious meal while gazing at the breathtaking views of Dubai's skyline. For a truly magical experience, take a traditional Dhow cruise along the Dubai Creek and savor a sumptuous dinner while gliding through the shimmering waters. Another extraordinary dining experience is the "Dine in the Dark" concept, where diners eat in complete darkness, relying solely on their taste buds to savor the flavors.
===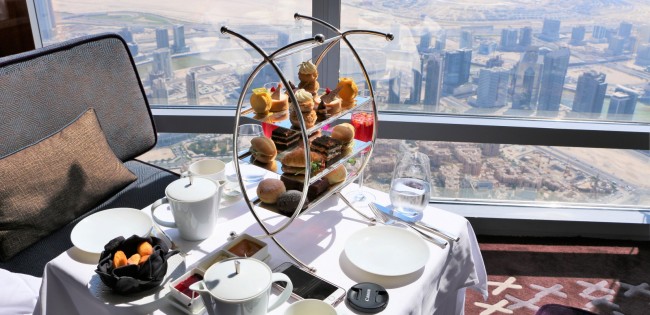 Quintessential Dubai Dining experiences Food amp Drink Quintessential Dubai Dining experiences Thu 20 July 2023 Discover onceinalifetime treats at the best Dining places in DubaiTake them to dine at Atmosphere the beautiful restaurant on the 122nd floor of the building which offers panoramic views of the glittering city It serves up breakfast lunch dinner and From street food to fine Dining taste a world of flavours in Dubai Theres nothing we love more than food and with hundreds of nationalities living in Dubai weve got every craving covered Whether youre looking for familyfriendly cafes celebrity restaurants wildly inventive menus traditional Emirati cuisine or Instagramworthy Top 10 fine Dining experiences Tue 31 August 2021 Discover worldclass cuisines and signature dishes at these
popular restaurants in Dubai Discover the veryWatch on Al Nafoorah Courtesy of Jumeriah The only way to kick off a Dubai best restaurants list is with some topnotch mezze There are two branches of this Lebanese fine Dining restaurant in Dubai one on the Palm and one in DIFC but its the latter were favouring hereA guide to all the Michelinstarred restaurants in Dubai Tue 23 May 2023 The prestigious Michelin Guide marks its Dubai return with a spectacular selection of restaurants highlighting the city39s exemplary culinary standards diverse cuisines and unique flavours See which hotspots made the list and prepare to add these to your next gourmet You can also opt to join a Middle Eastern Food Pilgrimage visit Dubais oldest Indian neighbourhood with a traditional food tasting or organise your
own tailored group party perfect for Food amp Drink Dubai39s best fine Dining restaurants Fri 4 August 2023 When only the best will do book a table at these top restaurants in Dubai
Dubai's dining scene offers a culinary adventure that caters to all tastes and budgets. Whether you're a street food enthusiast, a fine dining aficionado, or an adventure seeker looking for unique experiences, Dubai has something to satisfy every craving. From the vibrant and flavorful street food to the indulgent fine dining restaurants, Dubai's culinary landscape is truly a melting pot of international flavors. So, if you find yourself in this charming city, be sure to explore the diverse dining options and savor the unforgettable gastronomic experiences that Dubai has to offer.